Decent's ever-growing suite of creator tools, templates, and applications arms users with a powerful, yet simple-to-use, set of customizable approaches to build web3 projects. With Decent, creators and builders are met where they're at on their journey and empowered to enter the world of on-chain creation regardless of their skill set.
Today, we're proud to launch a new Creator HQ interface that streamlines the onboarding, creation, and post-mint management experience. Whether a first-timer or experienced builder, the new Creator HQ better informs, inspires, and equips you to create and supercharge your web3 communities, experiences, and releases.
Live Project & Collector Analytics Dashboard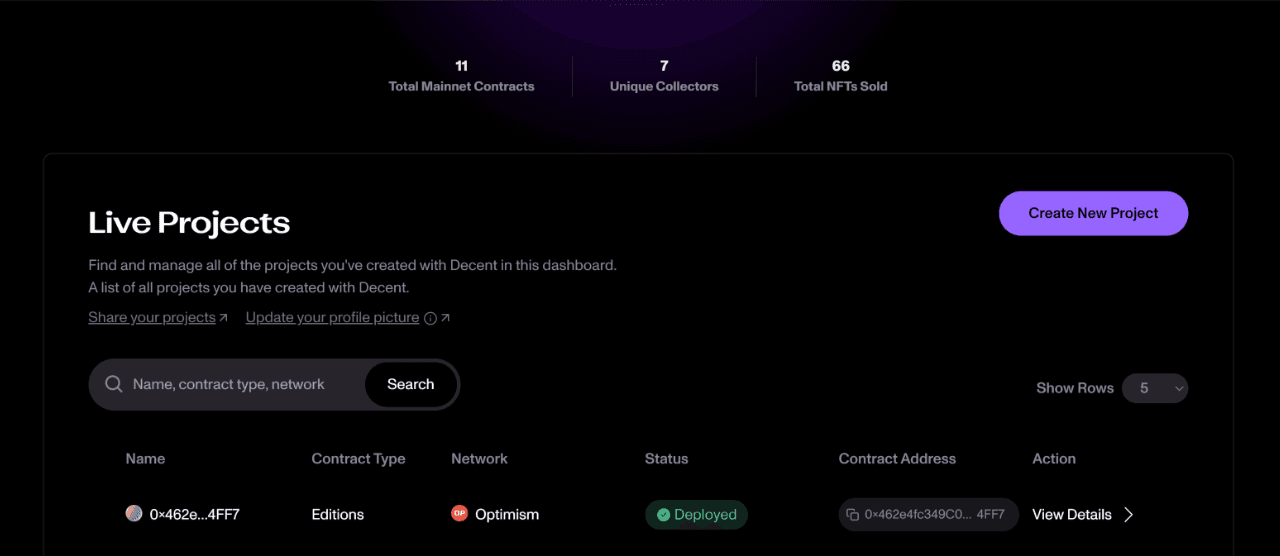 Visibility is key for creators to manage their contracts and track the success of their releases. Creator HQ's new Live Projects tab provides creators with an analytics dashboard that tracks their total number of live contracts created, unique collectors, and contracts sold, as well as a comprehensive list of collectors that pairs well with allowlisting and airdropping functions on Decent contracts. Creators can also view and manage all live projects in one comprehensive dashboard.
"Help Me Choose" Onboarding Flow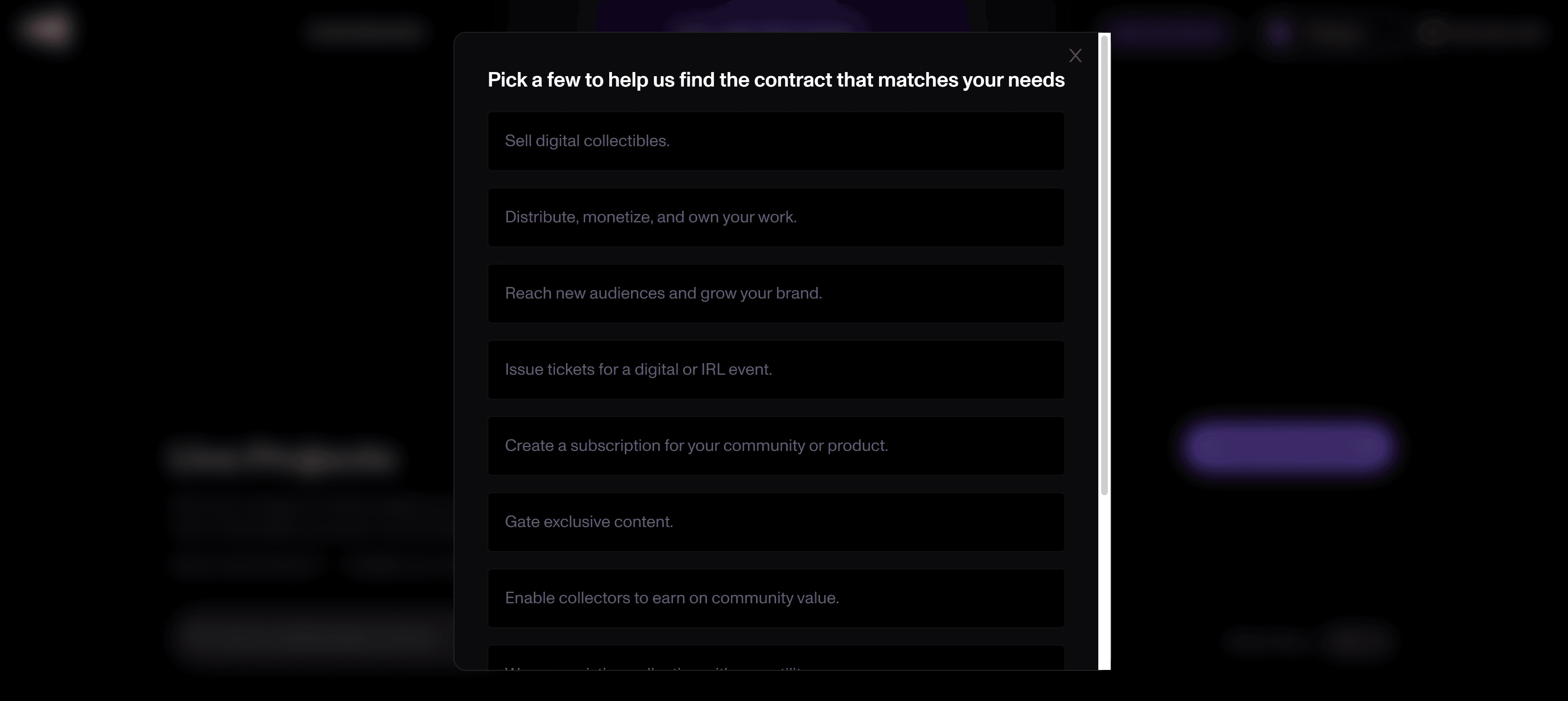 Once inside the Creator HQ portal, builders are presented with the option for Decent to help choose which contracts best suit their needs via a new onboarding flow. By identifying as either a Creator, Developer, Company, or DAO, users are prompted to select building options that align with their vision. Based on selections, the flow will present the user with recommended contracts and/or templates.
Robust Contract Info & Case Study Pages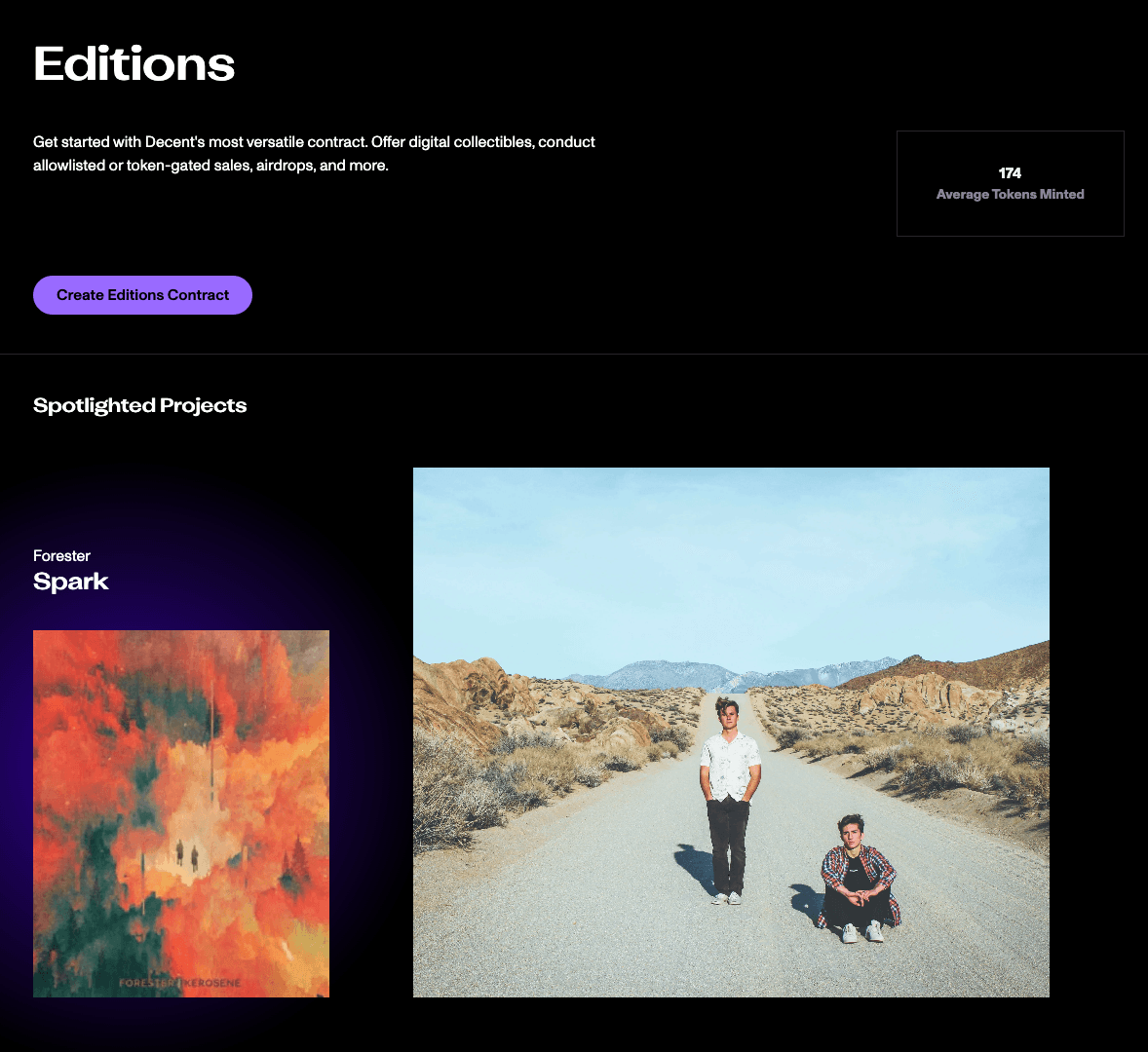 We've built our smart contracts to be fully customizable and dynamic in their utility so users can create projects that are entirely unique to them. To give users a better idea of the capabilities of Decent contracts, we've built out comprehensive info pages so they can learn what they are, what features they hold, and how they can be best used. Each page also features a how-to video depicting the step-by-step of setting up a contract prior to deploying.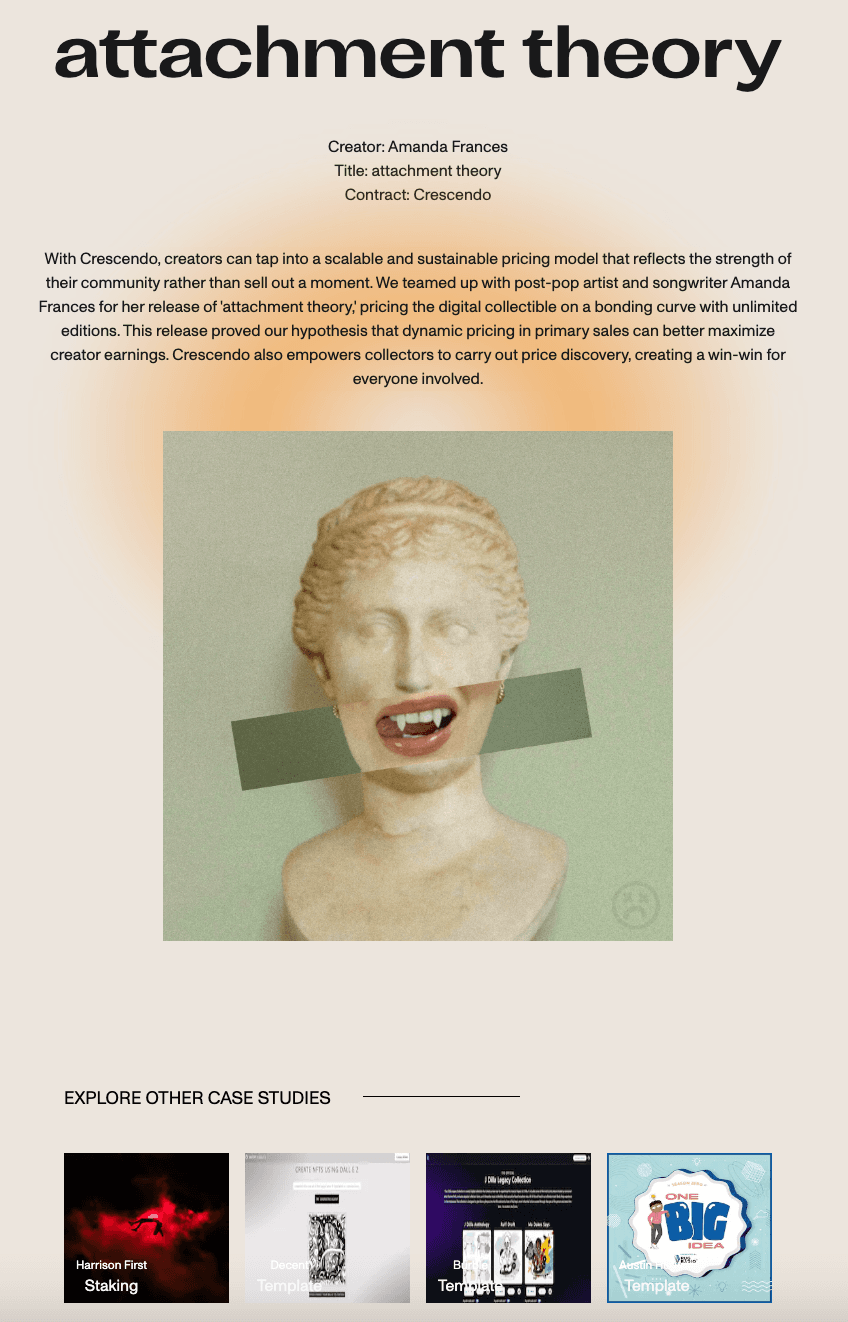 Along with our contract information pages, we've compiled a series of case studies to teach how Decent contracts can be applied. From enacting creator splits in Editions contracts to adding Staking to an existing PFP collection, explore new ways to approach your own creations through Decent contracts.
Ready-to-Go Decent Templates & Applications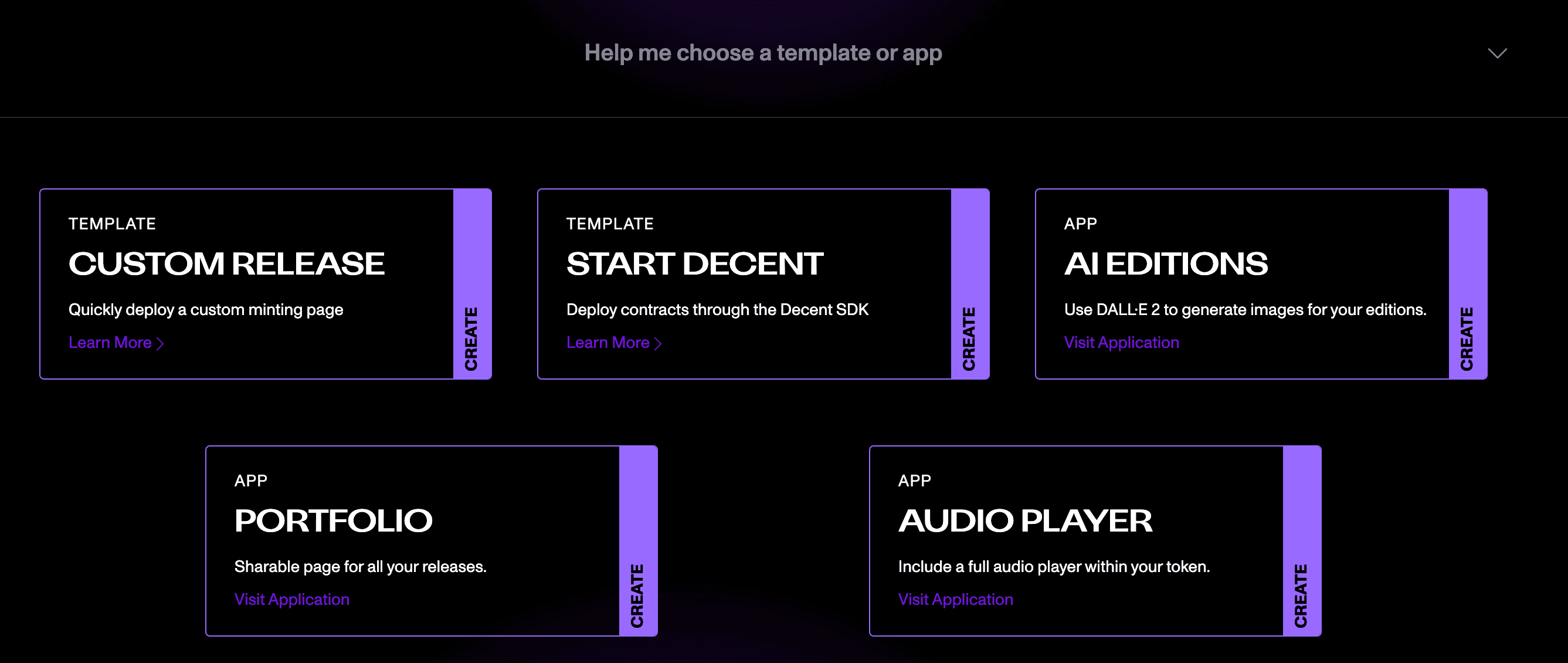 Outside of building within Creator HQ, tap into the Decent SDK to begin low-code projects built upon Decent contracts. Through hands-on experimentation with partners and collaborators, we've developed incredible builds that can be recreated through our customizable, low-code template library. From customizing a bespoke minting page, to deploying AI NFTs, to creating an audio player, get started with templates today.
Open Editions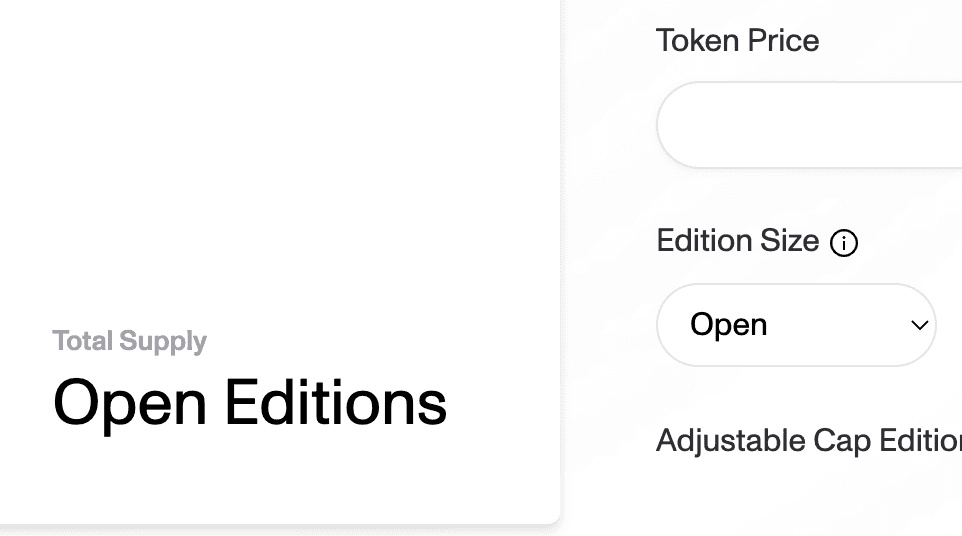 We've always been a fan of open editions here at Decent, whether it is through pricing on a bonding curve with Crescendo or unlocking ways to bridge web2 and web3 audiences. Formally creating an Open Edition release is now as easy as clicking a button in the Editions and Rentables creation flow. Claim period/sale date range is also customizable.
On the Horizon
We're excited to empower the next wave of builders and creators to harness the power of web3, without all the hassle. Accessibility and user experience are paramount at Decent, and we will continue to roll out updates that enable users of all skill sets to build dynamic and unique web3 releases.
Tap into the brand new Creator HQ interface at hq.decent.xyz.
Stay in the know with all updates and innovations on Twitter, Mirror, Discord, and our newsletter, Some Decent News, so you don't miss out! Interested in collaborating in a project, or know a creator who needs assistance with their build? Our DM's are always open.
Stay Decent.